Seeking out our roots is sometimes easier said than done. Is the voyage overseas worth a possible prison sentence with no end in sight? That's the foundation of a new passion project by Michael Goorjian (Party of Five, SLC Punk), the writer-director-star who plays an American returning to the place of his ancestors: Armenia. The kicker? The year is 1948, and it's a Soviet republic amid the aftermath of World War II. Inspired by real events, Amerikatsi (translated as "The American") is a strong comedy-drama that's sometimes hard to watch, due solely to the tough subject matter, but never fails to deliver on the heart.
Just Call Him 'Mr. Charlie Chaplin'
After the film's tense, pre-war sequence involving a boy getting taught some valuable life lessons by an elderly relative, a series of expositional opening titles appear:
In the aftermath of the Second World War, Joseph Stalin offered to pay survivors of the Armenian Genocide, scattered throughout the world, to return home to what remained of the nation of Armenia now under Soviet rule. With hope in their hearts, nearly 100,000 "Repatriates" — including 313 Armenian Americans — gave up their current citizenship and made the journey back to their ancestral homeland to reclaim their identity and culture.
It's now 1948 in Soviet Armenia, and we see that young boy all grown up — eventually. First, we see a local named Sona (the delightful Nelli Uvarova) get into a scuffle on the streets, and it is the grown-up boy, named Charlie (Michael Goorjian), who swoops in to save the day. As a show of gratitude, Sona and her military-official husband Dmitry (Mikhail Trukhin) take him out to dinner, where his American accent and unique wardrobe (compared to the surrounding Soviets) stick out like sore thumbs. Charlie is in the area to get in touch with his roots in these post-WWII days, and instead of getting a nice home and job like Dmitry and Sona promise, Charlie gets unjustly sent to the slammer…
Despair descends on Charlie's life, as a botched translation leads Soviet officials to believe that the innocent American is even more dangerous than originally thought. But thanks to Goorjian's charm, the film's quirky musical score and deadpan comedic vibes from the prison staff (they call Charlie "Mr. Charlie Chaplin," for example), Amerikatsi is an effective comedy-drama that keeps up the momentum for Charlie, even in desperate times. This comes in the form of a discovery through Charlie's prison-cell window: an apartment, where a prison guard named Tigran (Hovik Keuchkerian) resides with his loving wife.
Related: Aurora's Sunrise: Animation on Armenian Genocide Wins MiradasDoc Festival
This is where past classic films come into view as potential inspirations and/or influences on Goorjian's passion project. Rear Window, The Shawshank Redemption, Life Is Beautiful, and even Disturbia come to mind as events unfold at the prison. Charlie spies on the couple across the way and even dubs their inaudible conversations to himself. And there's plenty of time for all this, since a coincidental earthquake prevents him and other prisoners from being sent away to Siberia. Instead, they need to stay put and help repair the facility.
Donning a now-shaved head and an ever-more slender appearance, the clever Charlie finds himself getting involved in Tigran's life. He learns how Armenians properly toast at dinner parties by watching on through the clear glass windows of Tigran's home. He observes Tigran play the guitar for his lover and reveal a secret artistic side, which stays locked away in a closet that Tigran can't seem to open. In terms of character motivation, Charlie pounces on this observation and schemes ways of sending notes to the guard to help him find the closet's key and even reconcile with his wife after witnessing certain marital quarrels.
Unlikely Prisoner-Guard Connection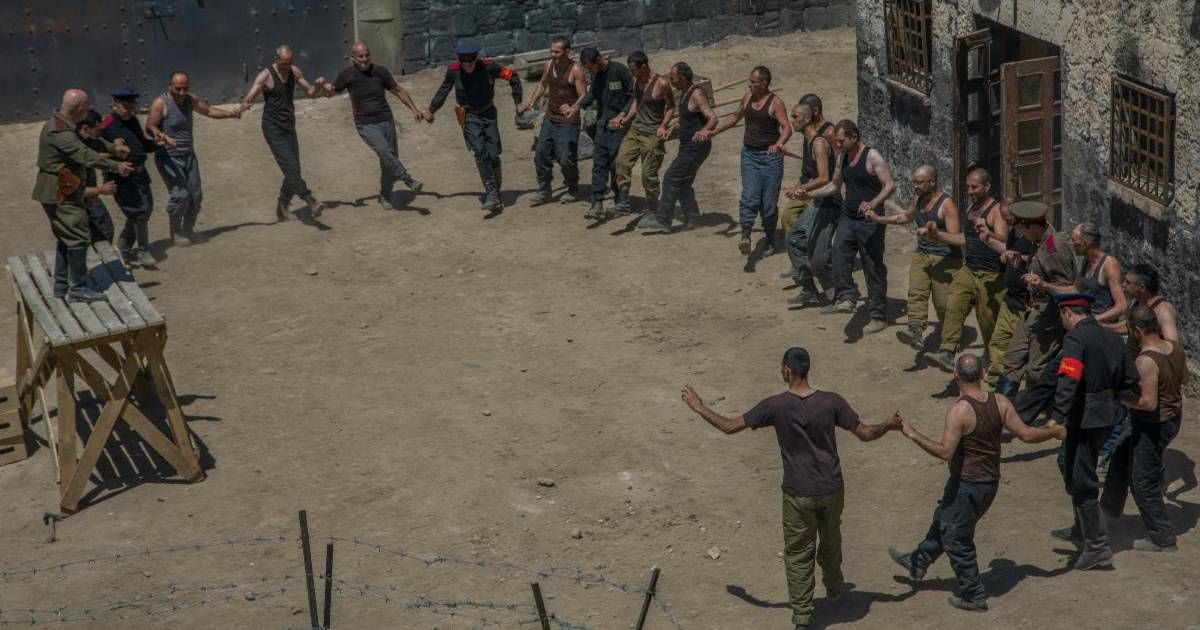 It's that heart that makes Amerikatsi a good-natured triumph, but Goorjian reminds us of the hard times by cutting back to Charlie's traumatic childhood, where he witnessed executions while hiding out in a box. It's a reminder that Charlie must make the most of the cards he's dealt, and he finds solace in trying to help Tigran. Eventually, the pudgy guard catches on and arranges for art supplies to be sent back to Charlie's cell as a discreet thank-you. You might even fist-pump for joy in moments like this — an unlikely connection between prisoner and guard…
Related: 10 Most Satisfying Family Reunions in Movies
But let's not forget that Charlie is sort of doomed all this while, locked away for reasons that don't exactly make sense. It drives him to fantasize that he's actually right there in the dining room with Tigran, especially after learning that his days at this more favorable prison are numbered; the officials later threaten him again with a transfer to Siberia. Around this time, the scene-stealing Sona resurfaces after inquiring about Charlie's whereabouts. And here lies another strength of Amerikatsi — sure, Goorjian's awards-caliber leading performance is enough to make the film a home run, but he enlists lovable supporting players to round out the cast. They're not just throwaway roles; they stick with us, even with the language barrier.
There is most certainly an "all is lost" moment later in Amerikatsi, when an old pal of Charlie's (we won't say who) is selected to hurt him (along with all the other prisoners there). It's heartbreaking to see society trap such a charming, smartest-man-in-the-room person like Charlie in these circumstances, but he never loses hope (nor do we). Amerikatsi was shot in Armenia, so everything about the look of the film feels authentic. And this really heightens the themes that make up Goorjian's inspired tale here. Charlie brings a certain warmth and humor that make the character seem, ironically, ahead of his time. He is the embodiment of resilience and heart, and that makes Amerikatsi worth a tune-in for the whole family.
From Variance Films, Amerikatsi hits select theaters Friday, with a national rollout to follow.